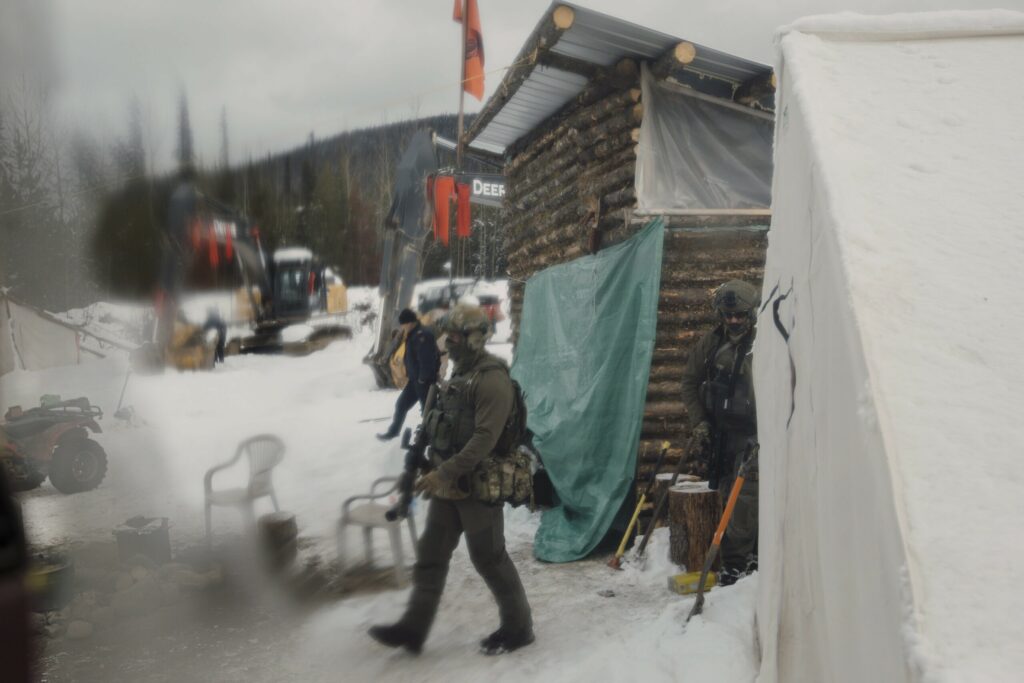 Stop asking if journalism is objective. Start asking if it's responsible
On Friday, November 19, snow covered the ground as heavily armed RCMP officers descended on a small house occupied by defenders of the Wet'suwet'en lands in northwestern British Columbia.
The RCMP's job: Paving the way for the construction of the Coastal GasLink pipeline, which will supply LNG Canada's terminal with fracking gas for export.
There was a small hitch – two reporters were inside the little house.
One of them, Amber Bracken, was on a mission for The Narwhal. Bracken, an award-winning photographer who also works with publications like The New York Times and National Geographic, clearly identified herself as a journalist, but was arrested, charged with contempt of court and held in jail for three nights.
In less than 48 hours, the Canadian Association of Journalists drafted a letter signed by more than 40 news outlets and press freedom organizations, calling for the immediate release of Bracken and independent documentary filmmaker Michael Toledano.
"The RCMP said the reason for their arrest was that they 'integrated' with the protesters, which has never been illegal in Canada," the letter said.
In this case, "incorporated" seems to mean that the journalists were in the injunction zone, beyond the police lines – which just happens to be exactly where they needed to be to document the militarized police raid.
Sadly, much of the debate that simmered in the weeks following the arrests revolved around the RCMP's false innuendo that journalists had crossed the line between journalism and activism, fueling the small group of voices. who falsely claim that the narwhal is engaged in "advocacy".
Often times this line of criticism overlooks our strong code of ethics and accuses the narwhal of having a 'point of view'. Let's take a closer look. To accuse a medium of having a point of view is to suppose that others not have a point of view. But is it really true?
As The Narwhal's Ontario bureau chief Denise Balkisson said in her 2020 Atkinson talk, objectivity is an impossible ideal. Who interviews a reporter, what quotes are used, what stories are attributed in the first place – all of these are subjective decisions made every day in the newsrooms.
"You have a point of view. You don't come from nowhere, "she said. "The person who can challenge your point is yourself, and that's something you should try to do as a journalist instead of pretending it just doesn't exist."
Receive the Narwhal delivered to your inbox!
People always tell us they love our newsletter. Find out with a weekly dose of our independent, ad-free journalism
The very concept of "out of nowhere" is one that prioritizes the interests of the status quo, which are easily invisible to the uninformed eye. For example, why does every newspaper have a business section, but not an environment section? It's a choice about the editorial priorities of every newspaper in the country that few people think of. While articles in the newspaper's business section may address environmental issues, they are almost always told through the primary lens of business interests.
Meanwhile, The Narwhal functions much like the Mythic Environment section of the Journal. We focus on a different set of issues: biodiversity, climate science, indigenous rights, sustainable development, the intrinsic value of the natural world. Quite often we choose to report verified facts that may be inconvenient for those in power or for others who want to protect the status quo. Do these choices represent a point of view? Sure. But no more than the choice of a newspaper to have a business section and not an environment section.
Another example: Racialized journalists have long been told that they cannot cover certain stories because they are "too close to them", while white journalists have not been told the same thing. In this case, the dominant white perspective is considered no perspective, while the perspective of a racialized person is considered a "point of view". This is clearly an illogical and racist double standard.
Likewise, when a mainstream media that receives millions of dollars in fossil fuel advertising revenue calls Indigenous peoples on their unceded land "protesters," that choice conveys a point of view just as much as when the Narwhal chooses to call these same people "land defenders." One comes from a colonial and corporate worldview, while the other is more informed by an Indigenous worldview. But let's be very clear: both represent a choice.
New York University journalism professor Jay Rosen has spoken out against the "out of nowhere" approach for years.
"The authority that there is in the position of sightlessness is not deserved," he writes. "In journalism, real authority begins with reporting. Know your stuff, control your pace, be right on the facts, dig under the surface of things, call to find out what happened, check what you heard.
These are the things we love about The Narwhal: knowing your pace, checking your facts, diving deeper, finding angles not covered elsewhere, and amplifying underrepresented voices to help rebalance our speech – a speech that 'objectivity Kept stacked in favor of those in Power.
Of course, we all make mistakes sometimes and we should always strive to do better. But doing better doesn't mean doing it same thing like everyone. In fact, nearly 5,000 people donated to support The Narwhal this year. because we're doing something different.
"I appreciate how hard your team works to report on topics the mainstream media won't cover," wrote a new member this month. "I support the rights of indigenous peoples," wrote another. "I appreciate the way you report the big issues, not just the hot topic of the day," wrote another new member.
The very fact that The Narwhal is a non-profit organization indicates that we place a different value on traditional media, which depend on advertising revenue and should generate profits for owners and shareholders. Conversely, we do not run any advertising and the success of our publication depends on our relationship with our audience, whose donations are our greatest source of income. We are also radically transparent about our sources of funding, unlike virtually all other news publications in Canada.
Being free from the constraints of the advertising model allows us to think outside the box and focus on one business: serving our audience. In the three years since the launch of The Narwhal, there have been dramatic changes in the Canadian media landscape. What was considered pushing the boundaries a few years ago – for example, linking a forest fire or catastrophic flood to the fundamental problem of climate change – is now considered best practice.
And I have no doubt that what a small and increasingly small group may consider "advocacy" today will likely be considered responsible journalism in a few years.
Fortunately, if there's one thing we've never been afraid of at Narwhal, it's being one step ahead.
New title
And since you are here, we have a favor to ask of you. Our independent, ad-free journalism is made possible because the people who enjoy our work also support it (did we mention that our stories are free for everyone, not just those who can afford to pay?).
As a not-for-profit, reader-funded news organization, our goal isn't to sell advertising or appeal to corporate bigwigs – it's to bring information to the surface and evidence-based analysis for all Canadians. And at a time when most news agencies have fired journalists, we have hired five journalists in the past year.
Not only do we fill a void in environmental coverage, but we also tell stories differently – by centering Indigenous voices, building community, and doing all of this as a people-fueled nonprofit outlet. and supported by over 4,200 members.
The truth is, we wouldn't be here without you. Each of you who read and share our articles is a crucial part of building a new model of Canadian journalism that puts people before profit.
We know that the world's problems today can seem overwhelming. It's easy to feel that what we do doesn't make a difference, but becoming a member of The Narwhal is a small way to really can make a difference.
If you think news agencies should be accountable to their readers, not advertisers or shareholders, please become a monthly member of The Narwhal today for any amount you can afford.