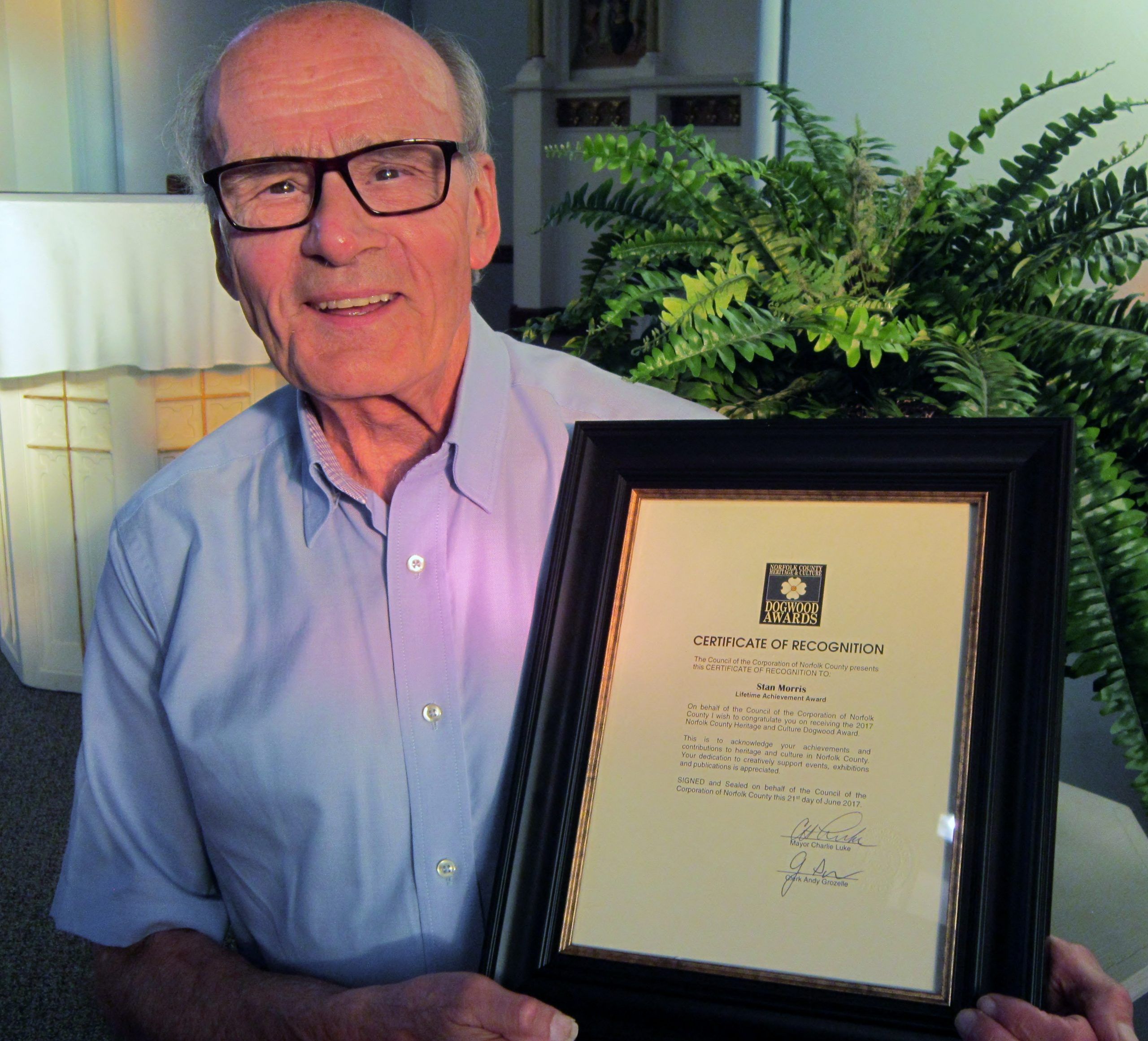 Stan Morris, 90, had a long career in journalism
The publisher was an authority on the history of Port Dover
Content of the article
PORT DOVER – A 73-year newspaper career came to an end this week with the passing of Stan Morris, longtime publisher and owner of the Port Dover Maple Leaf.
Advertising
This ad has not yet loaded, but your article continues below.
Content of the article
Samuel Stanford Morris died Tuesday at his home in Port Dover. He was 90 years old.
"Dad grew up in a time when 'guy' and 'police' were all a physical thing," said his son Paul Morris, the third-generation family member of the Maple Leaf.
"Back then, newspaper pages were stitched together using lead-like lines created upside down and upside down in heavy metal chases.
"Like everyone who worked in the printing industry at the time, he could read columns of words made up of inverted letters. He was also very happy when those days ended and he embraced computerized dialing.
Morris was born in Port Dover and educated at the old Port Dover Public School. Morris's parents enrolled him at Newmarket University when he was 16 for a two-year program.
However, in 1948 – after a year of college and at the age of 17 – Morris made it clear that he wanted to stay home and work for the family newspaper. Which he did until his death, says his family, writing articles and rereading pages until the end.
Morris and his wife Ione have been married for 64 years. The couple met at the Summer Garden in Port Dover in 1955. Ione Morris was originally from Paris and was attending this popular entertainment venue with a friend from Simcoe.
Morris had many associations during his life, most notably as a member of the Lions Club of Port Dover for over 50 years. Past President Robert McKinnon remembers Morris as being good-humored and quick-witted.
Advertising
This ad has not yet loaded, but your article continues below.
Content of the article
"When I joined the Lions Stan was – No.1 – very welcoming," McKinnon said Thursday. "I was incredibly struck by his spirit. The Lions teased him about the diary and he always made a comeback.
"Stan loved Lions and Lions loved Stan. He loved everything about Port Dover, and I'm sure he took it with him until the last minute. He didn't want to be anywhere other than here.
Former Haldimand-Norfolk MP Diane Finley wrote the weekly Maple Leaf column for the Port Dover Composite School as a teenager. She remembers long hours spent in the Maple Leaf Archives doing research projects on the history of Norfolk County.
"For almost 60 years, I have had the great joy of knowing Stan Morris as a caring employer, responsible journalist, staunch promoter of Port Dover and dear friend," Finley said in an email.
"Behind his gentle, self-effacing ways was a vivid memory and a wry sense of humor. He was always delighted with his family and everything they did. There is no doubt that our community has lost a man who contributed more than most will ever know. "
Due to his family's long association with the Maple Leaf, Morris was considered an authority on local history. He has written about the city's colorful past often in the pages of the Maple Leaf.
Morris was a group leader at the former Knox Presbyterian Church on Chapman Street West, which recently closed. Another member of the Ray Marks congregation of Port Dover remembers Morris as a reporter who always carried a camera and always searched for the angle of the news in any given situation.
Advertising
This ad has not yet loaded, but your article continues below.
Content of the article
"He was Mr. Port Dover," Marks said. "If anyone deserved this title, it was Stan Morris. He was a nice, kind man and everyone loved him.
"Whenever controversial issues arose, Stan never took a firm and quick stand. He was the accomplished journalist in that he tried to get both sides of the story. He was a very fair man in this regard.
Thompson-Waters Funeral Home in Port Dover is making arrangements. A visit is scheduled on Monday from 4 p.m. to 7 p.m. Proof of double vaccination for COVID-19 as well as identification must be presented at the door.