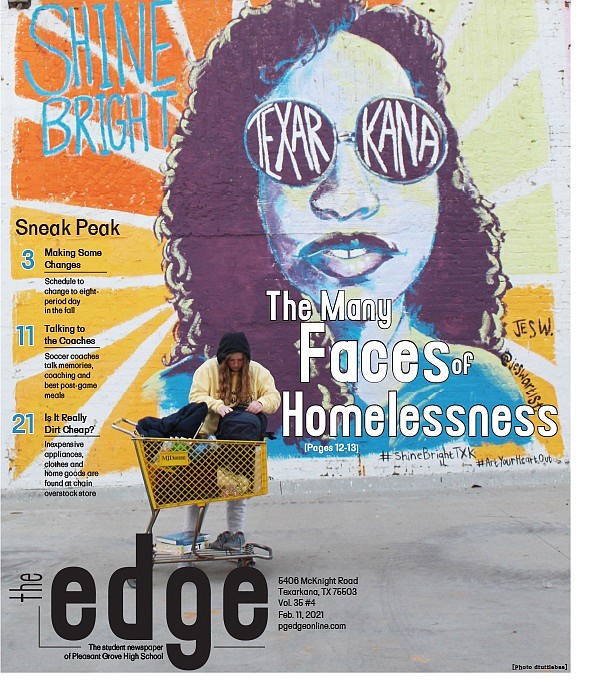 Pleasant Grove High Journalism Department nominated for Pacemaker, Individual Awards
TEXARKANA, Texas – The 2020 edition of Pleasant Grove High School's "The Edge" newspaper was named a Pacemaker finalist by the National Scholastic Press Association last month, and various individual awards were announced for PG staff and students.
Texas High School's "Tiger Times" was also named a finalist, but the Texarkana Independent School District has yet to announce individual awards / finalists or any other information.
The NSPA has named 65 high school student newspapers, news magazines and trade magazines across the country as finalists in its prestigious Pacemaker competition.
Of the 65 finalists, 28 will win the Pacemaker Prize, which will be announced at the NSPA Awards Ceremony at the JEA / NSPA National High School Journalism Convention on Saturday, November 13.
PG's journalism department is advised by Charla Harris, who was named 2019 National High School Yearbook Advisor of the Year.
"I think kids have very high standards and very high expectations of themselves," Harris said. "We've built a program here that they just want to do the best they can. And if the best is the best in the nation, then that's fine with them too.
"They did a great job. I've had comments from some of my fellow advisers across the country that it was one of the best jobs they've seen. So I was really proud of it. them."
The Edge has also nominated staff members for individual awards by the NSPA. Gillian Knowles was nominated for Story of the Year, and journalists Gillian Knowles, Cadence Pov and Nistha Neupane were named finalists in the COVID-19 report for their article on privacy restrictions and district protocols.
Four staff members were nominated for Design of the Year. Delaynie Keeney was nominated for their cover design, "2020: That's a Wrap", Alex Norton and Delia Tuttlebee were nominated for their cover design, "The Many Faces of Homelessness", and Sarah Johnson and Delia Tuttlebee were nominated for the design of their page, "It's family." Individual prize winners will also be announced on November 13.
"Out of all 50 (individual) categories, we had a tenth," Harris said. "We've never had so many finalists. And all the other schools are pretty big, so that's a big deal."
The editors of The Edge in 2019-2020 were Delia Tuttlebee, Alex Norton and Delaynie Keeney.
"There are a lot of things that go into journalism – talking to people, being confident in getting your message across, understanding how the design affects the message and what a story we need to tell," Harris said. "I think sometimes it's hard to figure this out, and once they figure it out, they can use this skill wherever they go. Just being confident in your abilities is something you can do. take it anywhere too. "