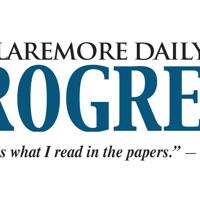 Pat Reeder inducted into Journalism Hall of Fame | News
Thirty-six years of striving for honest, unbiased, and sincere writing landed a local journalist in the Oklahoma Journalism Hall of Fame.
Former Claremore Daily Progress editor Pat Reeder will be inducted into the Oklahoma Journalism Hall of Fame in April.
Upon hearing that she had been selected, Reeder said she felt unworthy.
"While I was at the paper, I was surrounded by people who were good writers, good workers, and I always thought that all the rewards we got were the rewards we got from our readers," he said. she declared.
Reeder said she learned to always be honest and open to her contacts.
"We had the respect of our readers," she said.
She focused on telling a story – instead of focusing on who, what, where, when and why.
"I threw that out the window when the first good writer came to me," she said.
Reeder said she writes her stories as if she were telling them to a friend or relative.
Barbara Hoberock, a writer from the World Capitol Office in Tulsa, is on the Journalism Hall of Fame selection committee and has worked with Pat Reeder.
"Pat has done so much for journalists and for the company over the years," Hoberock said. "It was very exciting to see her nominated and selected."
Hoberock said she was a freshman at Oklahoma State University and sent in internship applications.
"She was the only one who responded," she said.
Hoberock was hired as an intern, and when she graduated from OSU, Reeder offered her a job.
"She was just a wonderful mentor to me," Hoberock said.
Hoberock said they would review his copy line by line and Reeder would make great suggestions on how to improve.
"She said to me once, and this is a paraphrase, she said 'You're a really good reporter, but you have to work on the turnaround,'" she said. "It was helpful."
Hoberock said Reeder does everything from story writing and editing to office management and dealing with politicians.
"When I was there, she was the heart and soul of that newspaper," Hoberock said.
Hoberock said it was well deserved.
"It was so nice to see her because she's like family — most people can't say that about their editors, but she was amazing," she said.
Reeder's career began in 1968 when Donn Dodd hired her as a reporter.
"I told him, 'All I ever wanted to do was work for a newspaper,'" she said.
Reeder's first contact with the newspaper world came during her freshman year of high school—she wrapped the Nowata newspaper in plain envelopes and wrote a column for teens.
"I always knew exactly what I wanted to be," she said.
Reeder said she grew up in Nowata and her family took all the magazines and newspapers.
"It's just something we did," she said. "We were interested in the news back home."
The desire to work for a newspaper brought her to college in Coffeyville where she took classes and learned journalism.
Reeder was excited to get out of school and into the field. She thought she could waltz into the Coffeyville Journal and get a job because she knew the owner.
"Boy, has my bubble ever burst," she said. "He told me how proud he was that I came to Coffeyville and was interested in the Journal, but he said, 'You know, we already have a woman on our team.'"
Reeder moved to Claremore in 1965 and worked in Tulsa at a friends optical business
"I thought my journalism — I thought it was over," she said.
It was then that she was advised by one of the Gordon brothers to meet Dodd – who helped launch her career in journalism.
Reeder never let her gender hold her back.
"I couldn't," she said. "I had two boys to support."
Reeder said sometimes men question his authority to write about certain things that were said in a public meeting.
"These men had no control over me," she says.
Reeder said the men in management were supportive of her.
"I had two of the best publishers in the state," she said. "They were good reporters, but they never interfered with the newsroom."
Reeder said that at the time she was named editor, there were only two female editors in the state – whose parents did not own the newspaper.
Looking back throughout her career, Reeder said many stories were told with her, but one in particular was the murder of Laura Long.
"Laura Long's murder changed the way we do things," she said.
Reeder said Laura's parents came to tell her she was missing and the FBI and police told her to wait 24 hours. Reeder encouraged parents to wait.
"Before 24 hours was up I was called to take pictures of his body in a ditch," she said. "After that, I said I would never wait again."
Reeder said she learned from everyone she worked with — whether it was the sheriff and police chief or other reporters under her command.
"I made so many friends," she says. "They knew they could count on me to write a story that would be true."