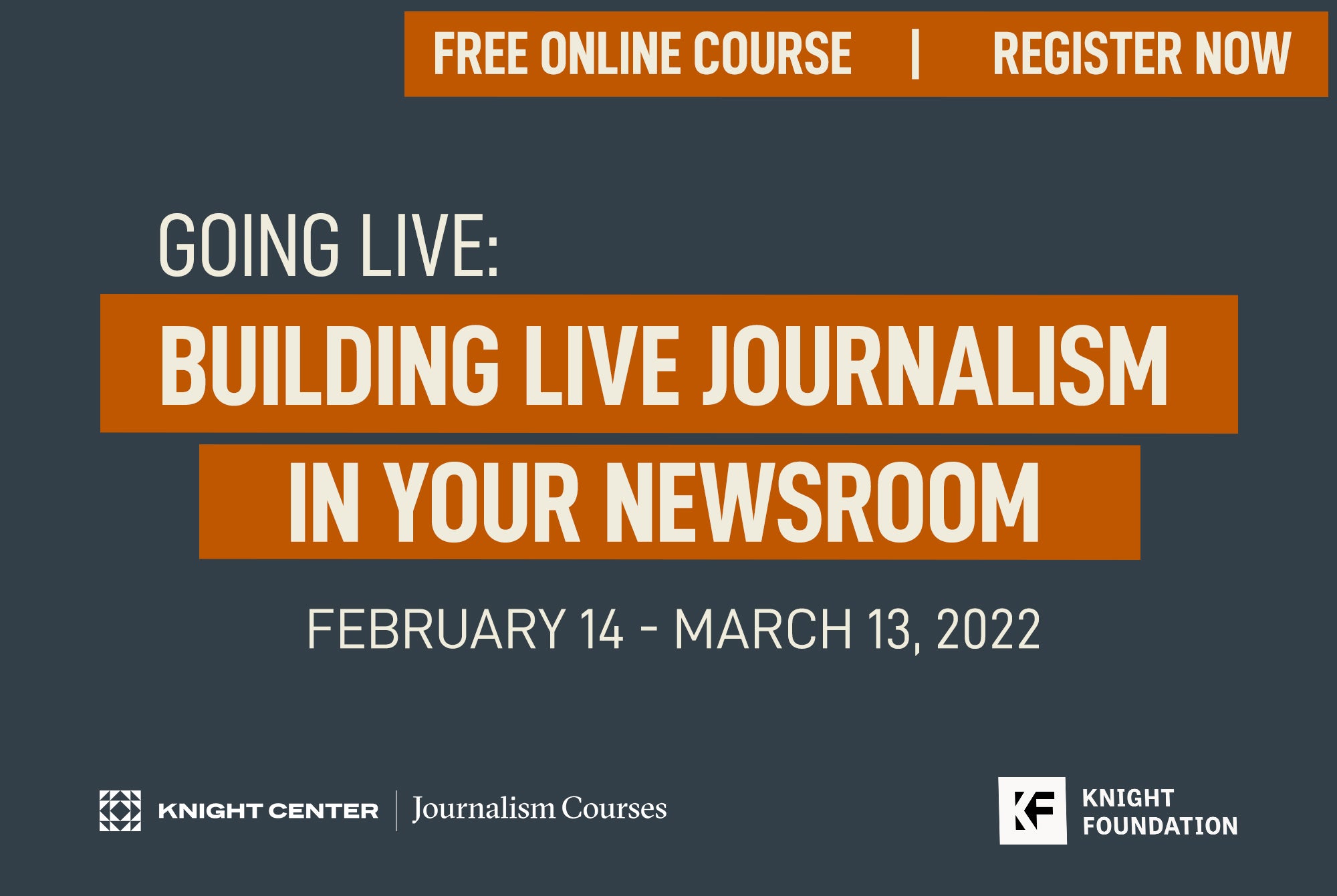 Learn to embrace live journalism for storytelling and audience engagement with Knight Center's free course
Journalists have moved from the newspaper to the stage, the boardroom and the auditorium with the advent of live journalism. Now, especially with the COVID-19 pandemic, these live events have exploded into the virtual world.
Creating live journalism can be daunting for newsrooms without a dedicated team in place to take advantage of these new ways of telling stories and engaging with audiences. A new course from the Knight Center for Journalism in Americas hopes to help with the process.
"Going Live: Creating Live Journalism in Your Newsroom" teach you how to build a live journalism franchise in your newsroom. The Massive Open Online Course (MOOC) runs from February 14 to March 13, 2022. Click here to find out how to register today!
This free online course, sponsored by the Knight Foundation, is taught by Kim Last, Live Journalism and Special Content Editor at The Wall Street Journal.
"We are grateful to Kim Last, one of America's top live journalism experts, for agreeing to teach this important and timely course. makes it possible to provide free or low-cost training to thousands of journalists with our MOOCs," said Professor Rosental Alves, founder and director of the University of Texas Knight Center at Moody College of Communication in Austin.
"Live journalism has been one of the biggest trends in the news industry in recent years, a great opportunity for journalists to expand their work in new ways. And it can also become an opportunity for an additional source of revenue for news outlets, which is so needed in these times," Alves said.
"If you work in a newsroom, live journalism has technically happened all around you. Think of the dialogues you can hear with a sharp reporter or editor — some of the best news stories happen when you have an inquisitive, prepared reporter who asks intelligent questions and listens intently," Last said. "Live journalism just brings those same conversations, the same smart questions to a live audience."
Live journalism expands your storytelling
"Live journalism is another platform to extend your storytelling and shed light on a story beyond a given word count. I urge newsrooms to explore and experiment with this medium, as it can both generate media coverage or supplement coverage areas," she added. "Live events are also one of the only concentrated places where you can engage with your readers, well beyond comments in a digital story."
The pandemic has underscored the importance of live journalism events, as screens have become one of our main ways to connect with each other.
"With COVID-19, the pivot to virtual events has highlighted the accessibility of video," Last said. "At a time when newsrooms seek to deepen reader engagement, virtual events have democratized access and reach. The era of living and dying event content in a ballroom is over – virtual events make it easy to translate event sessions for online audiences.
During the course, students will follow four weekly modules, each focusing on a separate lesson.
Week 1 covers the components and formats of a successful event, including leveraging video and creating audience interactions
Week 2 focuses on event design and if you are creating a community or news event. It also includes a discussion of standards and ethics.
Week 3 involves producing coverage based on your event, including newsletters, videos and podcasts, as well as content distribution. For Last, this means "extending the conversation" beyond your event.
Week 4 covers your performance – how to conduct live interviews, design sessions and beat stage fright
The course will include video lectures from Last, readings and handouts/exercises, discussion forums and quizzes.
Instructor Kim Last is the editor of live and virtual events hosted by the Wall Street Journal newsroom. She joined the Journal about four years ago as associate editor of the live journalism team, expanding the popular Future of Everything series as editorial director. Prior to that, she led conferencing development at Vox Media, working alongside the Recode and Vox.com teams. She also served as an editor at Fast Company, launching the first Fast Company Innovation Festival.
This course is open to everyone, but is suitable for journalists, newsroom managers and product managers who are interested in live events and want to start a live journalism project in their newsroom.
Like all Knight Center courses, this MOOC is asynchronous, meaning you can take course activities on the days and times that best suit your schedule. There are recommended deadlines so as not to fall behind.
Students who successfully complete the course requirements have the option of paying a US$30 administrative fee to receive a certificate of completion. The Knight Center will assess the cases of students who require a waiver of this fee. No formal college credit is associated with the certificate.
So, don't miss the opportunity to participate in world-class training on an important trend in the news industry.