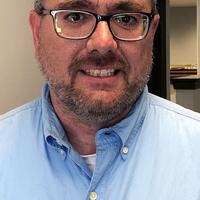 Journalism provided 30 years of memories and life lessons | Columnists
I remember it like it was yesterday, even though it was 30 years ago…my first "real" assignment as a correspondent for the Herald Republican.
A budding photojournalist with just enough photography knowledge to make me dangerous, I traveled to Fort Wayne on a cold, rainy Saturday to cover an Indiana State School Music Association marching band contest. I arrived at Northrop High School with my 1980s Minolta X700 camera, two lenses, and three or four films.
After more than an hour of standing in the rain taking pictures of the Angola Marching Hornets and other local bands competing that day, I returned to my car drenched but clinging to what would become a 30 year career.
As I sit here today reflecting on what has been a rewarding, if sometimes frustrating, career, I realize how much I will miss this path that has taught me so much over the years.
Thursday October 20 was my last day as a journalist. I am preparing for a new career in municipal administration with the City of Auburn. Granted, it will be a change from what I'm used to, but I know I'll take all the knowledge I've learned from those who have influenced me along the way to make the next career just as great.
Over the years I have reported and taken photos at a wide variety of events. The job has given me many opportunities that the average person can't take advantage of, from access to concerts, sporting events, special government functions and more. It has been an adventure.
I began my career as a correspondent for the Herald Republican in Angola with then-editor Rick Martinez and associate editor Mike Marturello (who is currently the publication's editor). It was these two gentlemen who gave me my first chance at journalism as I progressed through college at Indiana Purdue University Fort Wayne and Ball State University. The on-the-job training and experience I gained helped make me an award-winning photographer. I've spent over a decade capturing the moments of daily life in Steuben County – some happy, some sad, and some tragic.
These are the memories that will stay with me all my life, and some still haunt me today. In conversations with students over the years, I always share both the heartwarming stories and the tragic stories that we journalists must cover in order to bring our readers the news of the day.
One such story happened on a mild winter day in late March in Steuben County. As the fiery tones rang out over the scanner, I leapt into action to capture the moment that was about to unfold – what I thought was the rescue of two ice fishermen on a rural lake. Little did I know that this day would not end well, as the ice was too thin and the temperatures too mild for the crews to be able to rescue the two fishermen.
Throughout the ordeal, I captured all the heroic efforts of the first responders who risked their own lives to try to save the fishermen. After several hours of struggle, their efforts failed.
Both fishermen lost their lives that day.
These images come back again and again in my consciousness from time to time. Luckily, though, there are more happy endings to remember than sad ones.
After working for the Herald for over 10 years, my career as a journalist took me to Crawfordsville, where I was forced to change careers. If I wanted to continue working in newspapers…and I did…I couldn't be a strict photographer anymore.
I was going to have to take a pad and a pen and learn to write stories too.
To this day, I'm not sure what the editor of the Crawfordsville Journal Review – Mr. Jay Heater – saw in me, but I'm glad he gave me the chance. This is where I got my first real taste of covering local government, as county government and a few small communities in Montgomery County were my assigned beat. It was there that I learned to love documenting events in these communities as well as capturing events with digital photography (which my wife often reminds me of when I told her she would never replace film).
The two editors I worked for at Journal Review – Mr. Heater and Tina McGrady – pushed me to hone my craft, while also taking on the duties of near-night editor in charge of proofreading and finishing. pages every night.
From there it was a trip back closer to home to take a job at the Hillsdale Daily News in Hillsdale, Michigan, as newsroom manager and then editor. Over those almost five years, I honed my craft and became the publisher I am today.
My motto became "No story is too big or too small for me or my staff", and if someone invited us to cover a story, we did our best to do so. I've always had a heart for community journalism and believe newspapers are a vital part of any community.
The Hillsdale Daily News restructuring left me questioning my career, but eventually brought me back to KPC in September 2019 – which I honestly thought I would retire one day. In the summer of 2021, longtime The Star editor Dave Kurtz – whom I have always admired for his approach to community journalism – retired and I had the opportunity to follow in his footsteps here at TheStar.
These opportunities over the past two years have been incredible, and I thank the community for welcoming me and trusting me with the stories of DeKalb County. It was my time here that prepared me for the next chapter of my life, which I am sure will be just as eventful.
So, looking back over the past 30 years, I thank everyone in my professional life who has helped make me the journalist I am today…Rick Martinez, Mike Marturello, Jay Heater, Tina McGrady and Steve Garbacz.
And I can't forget the people in my life who have been there along the way to cheer me on: my family.
My wife Jamie has been by my side every step of the way, encouraging and supporting me throughout the career we hold dear. We met at work and worked together for many years, so journalism for us was all day, every day for a long time.
My children Danielle and William were also with me throughout the trip, unfortunately more often than they probably would have liked to be sometimes. They often had to follow while Dad covered the after-hours news, because we all know that if there's breaking news, it's your local reporters' job to cover it no matter what time. .
It's been a wild ride, and one I'm going to miss. But it's time for me to embark on something new, and although I'm a little nervous, I'm also very excited.
Thank you, DeKalb County, for the opportunity to serve you. I will see you.