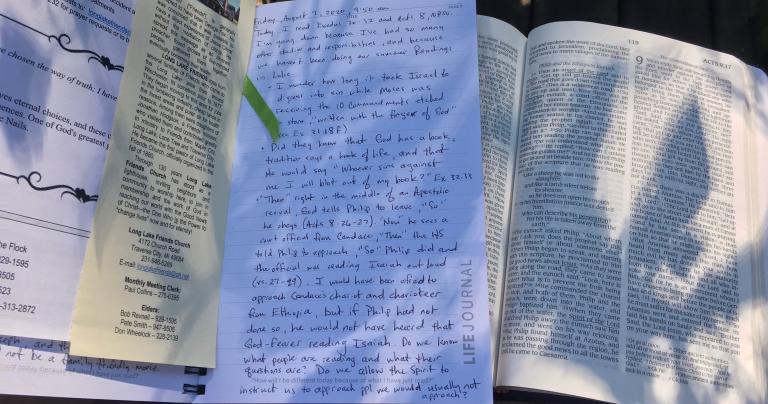 journal entry | life at 40
Not all journal entries explore the nature of the prophetic like this one does. Some are just good family memories, experiences I don't want to forget, etc. When I open the pages of my journals, I have something important to read.
This is an actual entry in my diary. Let me explain the "why" very quickly, and then give you some of my journaling guidelines, to put this piece together for you.
"Why" make a journal entry a blog post?
It was my birthday last month and someone asked me how I felt today when I was 40. I searched for social media posts dating back to that time and couldn't find anything significant.
Last week I picked up this diary and found this entry, and another, close to this time period. There you go, I'm in a similar transition season.
Maybe I'll pass that link on to the person who asked the original questions.
This brings me to some of my guidelines.
guideline 1: for future reference
I was trying to keep a journal, a completely frustrating discipline. Some days are just boring. Let's be honest. Would I still be reading these days? I haven't reread all of my "diaries". You will notice in the first paragraph of the log entry that there is a fairly long time gap between entries. It's not uncommon for me now.
A newspaper seemed more liberating to me because it could be what I wanted. What I wanted was to keep track of moments like this that are at the heart of something, or moments that I want to keep for future reference.
Not all journal entries explore the nature of the prophetic like this one does. Some are just good family memories, experiences I don't want to forget, etc. When I open the pages of my journals, I have something important to read.
I truly believe that God is in everyday, but my journal memories are cherished for one reason or another.
guideline 2: love keeps no trace of wrongs
If I remember correctly, I was going through a frustrating personal season as a young man. I don't remember if it was during my daily journal period or during my journal period. If this was during my diary period, maybe that was the source of my frustration. I'm kidding. There were other concerns.
I let myself run free in my journal, recording what I was really feeling, thinking it would be good to put it all down on paper. I even used colorful language, I admit. Yet I found it unsuccessful.
Later in life, I realized that I also found it unnecessary to write about problems in detail, and especially about problem people. I was getting nowhere while writing it.
For some it may actually help, but it didn't help me. Two other things helped though.
I realized that there is nothing more colorful, in terms of language, than praying the Psalms. For those who don't know, there are many Psalms written to help us when we pray in dire straits or in real time frustration. The Psalms even help us pray for people who frustrate us. It has helped me a lot more than keeping a journal about it.
1 Corinthians 13.5 says love keeps no trace of wrongs. It completely changed my view of journaling around 2005. I will leave this biblical injunction to you to apply.
Moving forward, I'm not really including specific locations or the pastor's name in this piece. Also, as a minister and counselor, I think it is important to share with others that I have often sought advice, including the search for pastoral wisdom.
journal entry | life at 40
Thursday August 16, 2012, 1:02 p.m.
A last page turned in my previous journal. My last entry was on 04/30/12. I have a last page for a final thought and I haven't named the journal yet. This one started in California. I waited to start this journal until I read the other and put the finishing touches. But it hasn't happened yet.
So that's what I'm turning to. Some pages are left to read later. Some pages are turned, hopes left on hold, prayers and dreams unanswered. I am 40 years old now. The days of my youth are withering away. I long to see God's purpose accomplished.
pastoral orientation
Today I walked into the church to speak to my pastor and update him on our situation. I am letting him know where things stand because we are currently looking at possibilities.
He started to encourage me. He said that at times like this we can spend all of our time worrying or worshiping. After going through it, are we going to regret the way we spent our time, constantly focused on it, looking everywhere for an answer? Are we going to wish we had spent more time with God and committed certain things to memory? Are we going to take the time to pray, really get closer to God? Then in the next phase, when we're so busy, we'll look back and be happy.
a wedding sticker
He said he faced a moment like this early in his marriage. He had tried to fix everything and had failed financially. He was crying and praying desperately.
He felt the Lord speak to him and say to him: "If you knew what I am about to do for you, you would worship instead of worrying!"
As he shared, it was as if the Lord was serving him.
weigh professional options
He told me that I am in a difficult situation, with guidance and a ministry. On the one hand, I need a job to support my family. On the other hand, I want to see God's dreams come true. In one place, I can work one-on-one, without seeing results for months. Sometimes I just need to make an altar call because lives can be changed in a minute when it might take months otherwise.
Further, he said emphatically, "You are supposed to preach to hundreds and thousands of people.
He told me that there is nothing more heartbreaking in ministry than seeing people living below what God has for them.
take advantage of the transition seasons
He felt like God asked him at the same time, "What would you do if you were financially free?"
He replied, "Help others. "
God replied, "What is stopping you?
He realized he had bills, but he wasn't tied to a schedule. He started that day and continued to spend 16 to 17 hours a day helping others. He started with his wife and family, then others. He soon had nearly $ 6,000. He worked in the houses and helped the poor.
He had faced cruel scrutiny from some employers he had applied to.
However, God showed him that he turned to others for help.
When he started to help others, God made it grow. He raised him above his immediate needs so that he could see down the road where God wanted to take him, and then how to get there.
And that's what he prayed for me, that God give me the blessed hope of what he wants to do in me.
---
In general, you can find more informal pieces like this in my Story category CLICK HERE