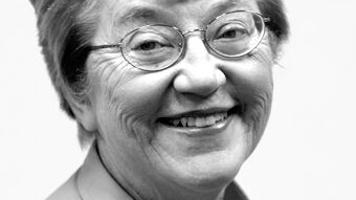 ENTRY TO THE RIDGEVILLE JOURNAL | New
Called to be servantsEllen Helgren calls this her High U Garden. I call it a nice surprise. This summer, driving back from Norwalk on County Highway U, I passed a lavender / blue flower garden, planted along the road with no homes in sight. The flowers caught my eye; lavender, I thought and emailed Ellen asking if I could pick a few.
In fact, what I was looking at was Russian sage, plants, she told me in an email, which she picked up on clearance at Shopko. Tall plants with silvery-gray foliage, they formed a cloud of color, growing parallel to the road, a border of flowers that, she said, bees adore. Driving slowly around this corner on U, I saw the familiar dark-eyed Susans, companions of the Russian sage. There was a colorful flower garden at the top of the hill, an area that Ellen with the help of her husband Mike developed for 15 years.
She grows a variety of perennials, designed to attract butterflies and bees. What I didn't recognize in her garden were butterfly grass, slanted pink onion, wild bergamot, and gout seeds from the meadows, native plantations, content with their location. There is a wooded area in the background; deer can be a challenge. For her Smooth Blue Aster and Turk's Cap Lily, she went to the trouble of putting wire cages around them to prevent snacking.
Next summer I will make an appointment and request a visit to this beautiful High U Garden, planted by the roadside for the benefit of butterflies, bees and passers-by like me.
Last month I wrote about the gift card campaign sponsored by Bank First. According to Emily Klitzing, a marketer, Bank First has purchased $ 100,000 worth of gift cards at more than 140 restaurants, cards that have been used locally to help families and businesses get through this difficult time. I had received a Murray's On Main gift card, which I enjoyed using for family and friends. Someone else did some extra credit.
Here's a thank you Bank First received from a winner in Tomah: "My family ordered jimmy johns on Sunday. While we were in the drive, there were two Monroe County cops behind. We used the gift card to buy them both a meal. You give back to the community, so we thought we should too! Thanks again."
When Kurt Moore's brother Kent, 57, needed a kidney for a kidney transplant, Kurt, 49, didn't have to think twice about being a living donor. "So I gave it a whirl."
For over a year Kent, on dialysis, has lived in Rochester with his wife Sarah and daughter Emily. After a series of tests ("156… I counted them," Kurt said) passed at Mayo, Rochester, Kurt is a match. His tests, Kurt said, came as a surprise, including speaking with a psychiatrist and social workers. "They want me to be in good physical shape," he said, "and in good mental health." He and his wife Seleena stayed in Rochester during testing week, parking their campervan at Autumn Woods RV Park, "where most people used to go to the Mayo Clinic," he said.
On December 9, Kurt and Kent hope to know when the transplant will take place. Both men will have a period of convalescence. Kurt, who is a diesel mechanic for Old Dominion Freight Lines, Tomah, is going to take time off and be off work for six weeks. "It's time to heal inside and out," Kurt said.
Last spring, after schools closed, the Norwalk Ontario Wilton (NOW) School District continued its school lunch program, providing midday meals to children in the area. Amanda Wallerman, Ridgeville and the Valle-Ville 4-H Club solicited sponsors who donated over $ 5,000 to keep milk, butter, cottage cheese and cheese on the menu, nutritious foods donated or purchased at cost price.
Every Friday for a month, Amanda went to Tomah's Kwik Trip and picked up 130 gallons of milk which she delivered to Brookwood School. In July and August, 4-H members and families participated in the pickup (over 1,650 gallons of milk were distributed) and assisted the volunteers who distributed bags of food on site. And there were other volunteers who mobilized and went to the outlying areas for home delivery.
This list could go on. I think of my neighbor Leanne Moore Allen who makes a point of inviting a neighbor or two once a week for coffee and a piece of homemade pie. I could mention Darrel and Suzanne Zietlow and a dozen others who volunteer for Second Harvest on the last Tuesday of the month at Norwalk.
Readers, who would you add to this list: friends, neighbors, family. Yourself. This is what we are… .. called to be servants; called to serve.
With best wishes to you all for a Merry Christmas. Love, peace, blessings and joy.