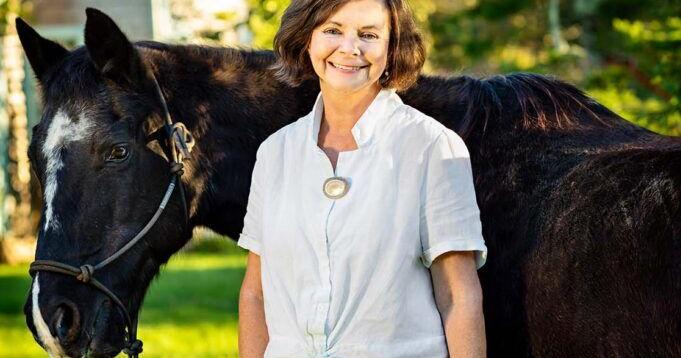 Author Geraldine Brooks talks about what animals know, her love of journalism and her visit to the Berkshires | Books
The Authors Guild Foundation will host its first "Festival of Words, Ideas and Thinkers", September 22-25 at Shakespeare & Company, where it will bring together many of today's best and brightest writers to explore the theme of "Reimagining America" through a series of engaging conversations, presentations, panels and keynotes.
Discussion topics include identity and belonging, reexamining history, climate change, the United States Supreme Court, and visions of our future. Festival attendees will have the opportunity to interact with speakers during Q&A sessions, book signings and receptions. Speakers include Dan Brown, Simon Winchester, Retired US Navy Admiral Harry Harris, Geraldine Brooks, Jane Smiley, David Blight, Henry Louis Gates Jr., Elizabeth Kolbert, Douglas Preston, Linda Greenhouse, Nikolas Bowie, Ayad Akhtar and Susan Choi.
The WIT Festival is free. Session selections and hosted dinner tickets are available to Giving Society members beginning Monday, July 25. Non-members will be able to select sessions and purchase tickets for dinners held starting August 15. For more information, visit authorguild.org/the-foundation/wit-festival. The WIT Festival is co-sponsored by The Berkshire Eagle, the festival's media sponsor.
On Friday, September 23, acclaimed novelist and author Geraldine Brooks will sit down with Jane Smiley during the WIT Festival session, "What Animals Know".
Born and raised in Australia, the acclaimed novelist was a correspondent for The Wall Street Journal for more than a decade, covering crises in the Middle East, Africa and the Balkans. Along with her husband Tony Horwitz, she won the Overseas Press Club Award for Best Print Coverage of the Persian Gulf War.
Brooks is the author of three non-fiction books and six novels, including the 2006 Pulitzer Prize-winning "March" and best-selling "Year of Wonders," "People of the Book" and, most recently, " horses". She was a Radcliffe Fellow in 2006 and a Harvard Visiting Fellow in 2021. She was made an Officer of the Order of Australia in 2016.
Brooks lives in Martha's Vineyard where she is a conservation commissioner.
The Eagle recently caught up with Brooks, who talked about the WIT festival, his books and his latest book, the New York Times bestseller "Horse."
Q: Your conference at the WIT Festival will focus on "What animals know". To start with a simple and naive question, what do you think we can learn from animals?
Geraldine Brooks: Of course, we are animals. We are the animals driving other species on the planet to rapid extinction. If we don't learn and change, this place will very quickly become very lonely, and soon after, we too will be gone. So I think it's time to look very carefully at the other animals that walk, swim and fly alongside us.
Q: Your new novel "Horse," released this spring, tells the stories of an enslaved horse groomer in the pre-war South and a modern-day black graduate student, and the legendary racehorse who connects through time. How did you come up with this idea for a novel and how did it evolve during its writing?
Geraldine Brooks: It all started with a completely chance encounter over lunch at the Plimoth Patuxet Museum, where I had been doing research for my previous novel, 'Caleb's Crossing'. I happened to hear a Smithsonian official recount how he had just delivered the skeleton of the most important and famous thoroughbred of the 19th century from an attic in the Museum of Natural History in Washington, D.C., to the International Museum of Kentucky horse. The details of the horse's career, the science around his bones, and what happened to him during the Civil War pierced me and made me determined to learn more. I had no idea how many surprising directions this horse's story would lead.
Q: Your historical novels are known not only for their skillful prose, but also for the depth of their research – stories about the first Native American graduate from Harvard in puritanical Massachusetts ("Caleb's Crossing" in 2011), about the court of King David in ancient Israel ("The Secret Chord" in 2015), and you won a Pulitzer for telling the story of what the father in "Little Women" did during the war ("March" in 2005). All of this required understanding and painting a detailed picture of past lives, which surely took a lot of reading and time in the archives. For you, is research just a means to an end (finding the most "true" story possible), or something else?
Geraldine Brooks: Mark Twain said, "Fiction is bound to keep to possibility. Truth is not." I like to follow the line of facts down an implausible but true path as far as I can, because the truth is, so often, richer and wilder than any story I could make up. I also like to delve into the weeds of other people's business: how do you prepare the bones for scientific study? How to evaluate a painting?
Q: How do you approach the challenge of telling the story of people so different from you, where and when they lived? Their views? Their stories?
Geraldine Brooks: For individuals from previous centuries, I rely heavily on the work of real historians – people like David Blight who will also be at WIT. I also read everything I could in the voices of people from the time – diaries, letters and for those who were not literate, verbatim court transcripts. This is where we find rich idioms and also a guide to their beliefs, passions, daily concerns. For my contemporary characters, I rely on the patience and generosity of people who are willing to share their own lived experiences with me.
Q: You started your career as a journalist, covering Africa, the Middle East and Eastern Europe for the Wall Street Journal. Do you sometimes lack reports?
Geraldine Brooks: All the time. I loved this life. It just didn't seem compatible with raising kids, once I had them. So I was lucky enough to be able to switch to fiction, where I could control my own schedule rather than having Saddam or Khomeini controlling it for me.
Q: You'll be in conversation with novelist Jane Smiley, who in a 2011 New York Times review described you as "one of our most flexible and insightful novelists." How would you describe his work, and is there anything you look forward to asking him?
Geraldine Brooks: She is a wonderful novelist and essayist and we share a common passion for horses, about which she writes with wonderful depth, feeling and wit. I'd be interested to hear her thoughts on our very precarious present moment, and what she thinks we as writers should do about it.
Q: You now live exactly across the state [of Massachusetts], on Martha's Vineyard. Have you spent time in the Berkshires? Is there anything you would like to do or see while you are here?
Geraldine Brooks: I once went to host an event at Edith Wharton's beautiful home and also at Canyon Ranch, and another time to take my son to his driving test – they were hard to plan during the pandemic. I look forward to long hikes in the beautiful woods – hope to bring my dog ​​Bear with me. And I would love to go to James Turrell's facilities.
IF YOU ARE GOING TO
Authors Guild Festival of Words, Ideas and Thinkers: Reinventing America
What: A three-day festival bringing together authors, scholars, scientists, activists, book lovers and anyone interested in stimulating discourse, new ideas and exploring potential solutions to challenging contemporary issues.
Where: Shakespeare & Company, 70 Kemble Street, Lenox
When: September 22-25
Registration information: authorguild.org/the-foundation/wit-festival/
SPIRIT FESTIVAL SCHEDULE
All events take place at Shakespeare & Company unless otherwise stated. Signing sessions will follow each session from 10 a.m., 11:30 a.m. and 5 p.m.
Thursday September 22
5 p.m.: When religion meets science with Dan Brown
6 p.m.: Reception
7 p.m.: Dinner at the Mont (paying event)
Friday September 23
10:00 am: America and China: Comes the Moment with Simon Winchester and retired US Navy Admiral Harry Harris
11:30 a.m.: What Animals Know with Geraldine Brooks and Jane Smiley
3 p.m.: Pop-Up Reading: Letty Cottin Pogrebin, "Shanda: A Memoir of Shame and Secrecy," at Lenox Bookstore
5 p.m.: Reexamining American History with David Blight and Henry Louis Gates Jr.
6 p.m.: Reception
7 p.m.: Food Truck Party at Shakespeare & Company. Paid event
Saturday September 24
10 a.m.: On Climate Change with Elizabeth Kolbert and Douglas Preston
11:30 am: Does the Supreme Court have a future? with Linda Greenhouse and Nikolas Bowie
2 p.m.: Pop-up Event: Wild Symphony, a reading and musical performance with Dan Brown
5 p.m.: Identity and Belonging with Ayad Akhtar and Susan Choi; hosted by Marie Arana
6 p.m.: Reception
7:00 p.m.: Dinner by the Bite at a private home in Stockbridge. Paid event.
Sunday September 25
11 a.m.: Authors Guild Foundation Fundraising Event: Community Service. Written by Laura Pedersen and starring Paula Ewin and David Rockefeller. Paid event.