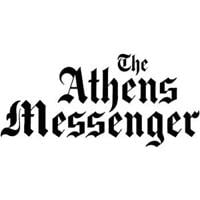 Athens County Deserves Genuine Local Journalism | Letters to the Editor
Last Friday morning – 30 minutes after talking about journalism with a visiting high school class – I was fired as editor of The Athens News. I had held the position for only eight months.
The reason given to me was that I had violated the Adams Publishing Group employee policy on the use of social media. They gave me a stack of paper, printouts of various tweets I had made on a personal account dating back to September. No one had ever spoken to me about the politics or raised any concerns about the tweets in question.
The most recent was a thread I posted on Monday, February 23, about advertisements that ran in regional APG newspapers in December and again last week. The ads use high-pressure sales tactics to convince consumers to buy what they claim are high-value collectibles. Advertisements aired last week, for the National Treasury and the Mint, go further by mimicking the layout of a newspaper. The words "Special Advertising Feature" appeared in quite small type at the top of the pages; a disclaimer noting that the company is not a branch of the US government is in lowercase type at the bottom.
I had raised concerns about the ads when they aired in December, only to be told to stay in my lane. I voiced my concerns again in mid-February when a local resident called about the announcements; he had responded to December advertisements for Federated Mint, but received nothing. The company was giving him the trick, he said, so he contacted his credit card company to dispute the charge.
Messenger editor Alex Hulvalchick received a similar call last Monday, this time from a woman who paid Federated Mint $1,000 and never received her coins. The company made him dizzy.
Our editor, Mark Cohen, defended the ads, as did our advertising executive, Amanda Montgomery; our controller, Adam Calhoun; and Robin Quillon, director of APG North Carolina and the one who sold the ads in the first place.
I posted ad warnings and apologies for them on the Athens News Twitter and Facebook accounts. When Mark Cohen ordered me to remove them, I used my own Twitter account to repost them. I also wrote an op-ed about them which was published in the Messenger on Tuesday February 24 and on the ANews website.
I'm not upset to be fired for violating the policy; it is APG's legal right to do so. I'm upset that they punished me for trying to serve our readers, throwing out a bunch of old posts to make it look like I was a serial offender of a political wave I never was warned before.
Because as a journalist, my loyalty was to you: the people of Athens County, my friends and neighbors. Not our advertisers, not the business leaders, just you. The first responsibility of a journalist is the truth. I told the truth to warn you about misleading advertising – and I got fired for it.
Companies like APG own the vast majority of American newspapers. Decisions about local newspapers are made by people who don't live in the community – for example, Mark Cohen lives in Columbus; APG is headquartered in Minnesota. These people only care about us as sources of income. In this respect, they are like operators of coal companies and other corporations extracting wealth from our communities and reinvesting it elsewhere.
Local journalism thrives when everyone involved has a personal stake in the community. It's hard to think of people as just cash flow when you have to look them in the eye at the grocery store or at church.
Athens County deserves a news operation with local ownership that understands that journalism is first and foremost a public service. I look forward to working with all of you to make this happen
Former Athens NEWS Editor-in-Chief