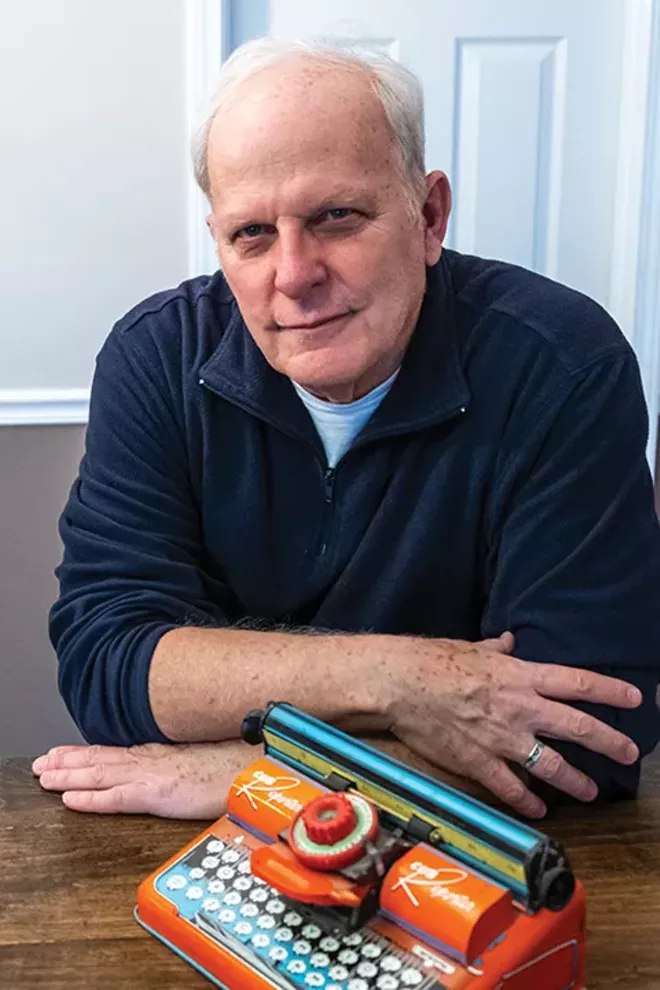 A love story of community journalism | New
Dave Hoekstra has written a love story of community journalism at a time when many newspapers are dying and small towns are changing.
Retirees Chicago Sun-Times The reporter traveled the country to speak to families who have operated newspapers for generations, an increasingly rare proposition as advertising dollars shifted to the internet and conglomerates such as Gannett swallowed up once-proud local institutions .
"I've done a few books, and the most successful is the one I did on Midwestern supper clubs," Hoekstra said. "I wanted to explore multi-generational operations, what are the challenges of keeping a third- and fourth-generation restaurant open in mostly rural areas. We did Wisconsin and Iowa. … I wanted to use the same model to explore four – and family journals from five generations. I focused on Hillsboro. I know a little about the area. My mother's family is originally from Taylorville.
Lighthouses in the Darkness: Hope and Transformation Among American Community Newspapers was published on October 12 and also reviews newspapers in Texas, Iowa and Missouri.
One of the newspapers he visited was the Newspaper-News in Hillsboro. The newspaper has been in the Galer family for three generations.
John Galer has worked at the Hillsboro newspaper, which he owns with his wife Susie, for nearly half a century.
"It's a good book, but the whole situation with the newspaper industry is just depressing," Galer said.
A book party will be held at 7 p.m. Nov. 3 at the Historic Red Rooster Inn at 123 E. Seward St. in Hillsboro. The evening will include a panel discussion celebrating the Hillsboro community and the importance of community journalism.
Hoeksta said it was appropriate for the event to take place at the hotel which has been redesigned as a downtown hotel, apartment building, tasting room and distillery. The Red Rooster Building turns 120 on November 21. Just as this business has found a way to reinvent itself, so have many community newspapers.
For example, in Marfa, Texas, a community of 1,700 people, the local newspaper opened a cafe. A couple in their thirties from Brooklyn, New York purchased the newspaper from a local family.
"They have an operation where they have a gift shop, they have a cafe," Hoekstra said. "So you walk in and pay your bill for the weekly paper and you go get a cup of coffee and hang out in the paper's office. That's great. It really makes the paper part of the community and pulls the curtain down ."
Galer said his bi-weekly newspaper has reinvented itself with a strong online edition.
"We now have as many online readers as print readers. But the reality is that most of our revenue still comes from the print side of things," he said.
Classified advertising, which was once a source of revenue, has crept into free online forums such as Facebook, Galer said. But he said the paper has a great relationship with local businesses who continue to advertise with the Newspaper-News.
"I believe in the value of the publicity we provide to them," he said.
Galer said his newspaper focuses on local news and has a better-staffed newsroom than many company-owned newspapers in much larger communities.
"I'm very disappointed with what's happened in some of these markets, as the continued, in-depth news coverage in these communities seems to be secondary to these operations when bought."
Another journal examined by Hoekstra was the Carroll Times Herald in Iowa.
Doug Burns, the owner of the Times Herald, said in a column written for the Iowa Dispatch that the decline of newspapers is the "central reason for the rot that is eating our democracy from within, the insatiable whipworm of a growing fascism."
Hoekstra wrote in the book, "Doug Burns was frustrated and tired. He told me he had considered suicide. He told me to go ahead and print this."
Burns wrote, "Dave's book is a love letter to the best of America, to cities large and small, and a cautionary tale of the proliferation of information deserts in which Americans don't know what's going on. they don't know about local government and the happenings around the block from them, not to mention our courthouses and state houses where the fourth estate is increasingly absent in a culture that values the stupidity of Instagram influencers more than the courage of beaten journalists determined on the duty of guard of democracy.
Scott Reeder, Writer for Illinois Times, can be contacted at [email protected]